NEQ // Stable Energies Discount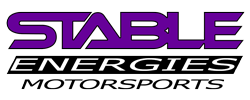 NEQ is pleased to announce a partnership with Stable Energies this year.
Active NEQ Club members will be able to receive up-to a 10% discount on equipment by contacting Oscar or Laurette and mentioning "Audi NEQ" membership discount. The discount requires an 8" x 2" sticker to be displayed on your vehicle. 
Stable Energies in Garfield, NJ (StableEnergies.com), is a worldwide distributor of safety equipment and performance parts to the global motorsport community. In addition to their own patented universal harness guide bars and popular line of fire extinguisher mounts, they are proud to be master distributors for Recaro, Bell, OMP and Alpinestars.  With a user-friendly website and knowledgeable staff, they provide a seamless shopping experience and expert guidance. Enjoy fast shipping and exceptional customer service. Whether you're a performance enthusiast or a professional driver, StableEnergies.com is here to elevate your driving experience. Unleash the full potential of your vehicle today at StableEnergies.com.
Please contact Oscar or Laurette at Stable Energies to get the club discount. Mention "Audi NEQ Discount" and have your ACNA Membership number handy.
Walk-ins are welcome but calling in advance is always preferable and may avoid waiting for one-on-one assistance.
Requirements to redeem discounts:
1. Must be an active Audi Club of North America member and be paid up-to-date.
2. Stable Energies sticker provided must be on the vehicle used for club events. This will be provided. Don't forget to send along photos of the car with the Stable Energies sticker on display.
Phone: (973) 773-3177 - Oscar or Laurette
Location: 175 Passaic Street, Garfield, NJ 07026
Email: Sales@StableEnergies.com
PLEASE NOTE: Discounts are UP TO 10% depending on the brand, and item. Club discounts cannot be combined with any clearance items, seasonal promotions, free shipping, and restrictions apply. Subject to change without notice.