Tires
The NEQ enforces some basic requirements for vehicle tires. See the "Vehicle Requirements" section for details. Remember, if you are sharing a car, you must either adhere to the tire requirements of the less experienced driver, or change tires between each run group (not very practical but okay to do).
The main reason for this requirement is safety, followed closely by education. If you have street tires, you will be able to learn the limits of the car more easily and at a lower speed, and be able to learn car control techniques.
Note: If you buy tires from these guys..



Click here, and we'll get a small commission from Tire Rack as a thank you for the inbound link. This won't affect the cost of the tires.
---
Next Section: Vehicle Requirements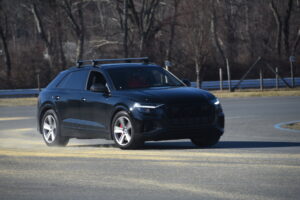 January 27, 2024.
Audi Club Northeast is excited to offer a Winter Driving School at Lime Rock Park Skid Pad & Proving Grounds