About the NEQ Club
The Northeast Chapter of the Audi Club of North America is a non-profit organization founded to promote driver education, safety, and camaraderie. Members enjoy the Audi experience through exposure to the Motorsport fraternity and other educational and social events.
Who we are
The NEQ is one of several geographically organized chapters of the Audi Club of North America. ACNA members residing in Connecticut, New York, and Vermont are automatically NEQ members. However, all members of the ACNA are encouraged to participate at NEQ events.
What we do
The NEQ develops organizes and hosts club events at numerous venues in the Northeast, including winter driving schools, social events, and high performance driver education. Popular event venues include Lime Rock Park,, New Jersey Motorsports Park, Watkins Glen International, the Circuit du Mont Tremblant and frozen lakes for Winter Driving events. Driver education events include a fully developed educational curriculum and individual instruction. NEQ events are structured to accommodate all types of participants, from novice to experienced drivers. Our events teach safe driving techniques and both low and high speed vehicle handling. The NEQ club also hosts social events, usually at the driving events or in conjunction with the annual meeting.
Membership benefits
Membership in ACNA entitles you to participate in all Audi Club events in North America, regardless of sponsoring chapter. Members also receive an automatic subscription to the club magazine, The Quattro Quarterly, as well as access to discounts on Audi parts, service, and cars.
NEQ members are encouraged to participate in NEQ leadership elections.
Join us!
If you are interested in joining us, you can find further information here.

NEQ Bylaws
Should you be so inclined, you can read our bylaws and learn even more about our special club. Click here for the club bylaws

Board Of Directors
NEQ has an elected Board of Directors. In this directory we have a complete list of our current Board of Directors, their terms and their contact information.
| | | |
| --- | --- | --- |
| Simon Chan | Secretary, Director (2024) | Contact |
| Carly Connors | Treasurer, Director (2024) | Contact |
| Eric Galvin | Director (2023) | Contact |
| Greg Miceli | Vice President, Director (2025) | Contact |
| John Mileham | Director (2023) | Contact |
| Anthony Rivara | Director (2025) | Contact |
| Jeffrey Segal | Director (2024) | Contact |
| Alex Sunseri | President, Director (2023) | Contact |
| Matt Wilson | Director (2025) | Contact |
Committee Contacts
It takes many people to coordinate the effort of our club. In this directory you will find a list of our committees, their members and the members contact information.
Anthony Brown
Co-Chief Instructor
Contact
Simon Chan
Long Term Development Committee Chair
Contact
Carly Connors
Social Events Committee Chair
Contact
David Klock
Winter Driving Committee Chair
Contact
Greg Miceli
Driving Schools Committee Chair
Contact
John Mileham
Policies & Procedures Committee Chair
& Instructor Committee co-Chair (Instructor Dev.)
Contact
Anthony Rivara
Instructor Committee co-Chair (Instructor Dev.)
Contact
Jeff Segal
Co-Chief Instructor, Nominating Committee Chair
Contact
Matt Wilson
Membership and Marketing Committee Chair
Contact
Event Masters
Event Masters are responsible for the coordination and running of each NEQ Event. If you have any questions about a particular event, contact the Event Master below who is responsible for that Event.
| | | |
| --- | --- | --- |
| David Klock | Winter Driving | Contact |
| Chris Dehnert | Fall Social Drive | Contact |
| Ray DeVerry | Lime Rock Park | Contact |
| Eric Galvin | Lime Rock Park | Contact |
| Greg Miceli | New Jersey Motorsports Park | Contact |
| Greg Martin | New Jersey Motorsports Park | Contact |
| Tom Mullane | Watkins Glen | Contact |
| Kimmie Sandberg | Watkins Glen | Contact |
| Alex Sunseri | Palmer I | Contact |
Audi's History & Logo Marque
AUDI AG is a German company which produces cars under the Audi brand. It is part of the Volkswagen Group. The name Audi is based on a Latin translation of the surname of the founder August Horch, itself the German word for "listen!" Audi is headquartered in Ingolstadt, Germany.
On July 16, 1909 automotive pioneer August Horch founded August Horch Automobilwerke GmbH in Germany. A short time later he renamed the company after the Latin translation of his last name – making it Audi Automobilwerke.
In 1932, Audi merged with Horch, DKW and Wanderer, to form Auto Union AG. The four rings of the Audi badge symbolize the brands Audi, DKW, Horch and Wanderer. Before World War II, Auto Union AG used the four interlinked rings, only on Auto Union racing cars in that period. Member companies used their own names and emblems.
Auto Union GmbH was established in Ingolstadt on September 3rd, 1949 following a series of changes as WWII came to an end.
Daimler-Benz AG acquired the majority of and finally the remaining shares in Auto Union GmbH on April 24th, 1958. From this date until the end of 1965, Auto Union was a fully owned subsidiary of the Stuttgart-based Daimler Group.
Volkswagenwerk AG acquired the majority of shares in Auto Union GmbH in December 1964, with Audi becoming a fully owned VW subsidiary from the end of 1966.
In March 1969, NSU Motorenwerke AG, which had just been taken over by VW, and the Ingolstadt-based Auto Union GmbH merged to form Audi NSU Auto Union AG.
In March 1980, a four-wheel-drive sports coupé was introduced at the Geneva Motor Show. The Audi Quattro was the first high-performance vehicle with four-wheel drive. This drive concept had previously only been used on trucks and off-road vehicles. The permanent four-wheel-drive system in the Audi Quattro enjoyed worldwide success in motor sport and gradually found its way into the entire Audi model range.
In January 1985, Audi NSU Auto Union AG was renamed AUDI AG. At the same time the company moved its head office from to Ingolstadt. From this time forward automobiles and the company had the same name.
Audi Logo History
This is a public domain image of the history of the Audi logos.
If you look carefully at the font and the rings of the Audi image in the collection below, you will see it differs from that in use today.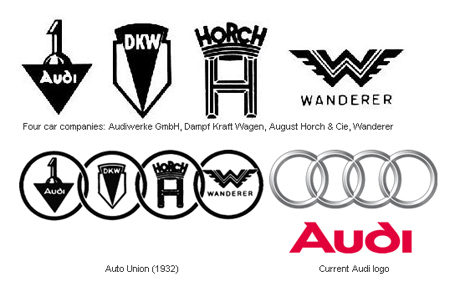 This is the latest version of the Audi logo. This was introduced in the fall of 2009 on the 100th anniversary of Audi.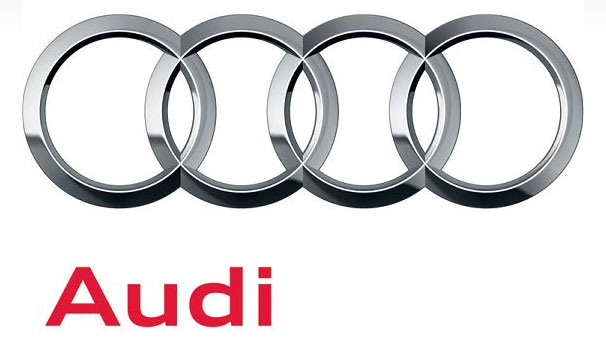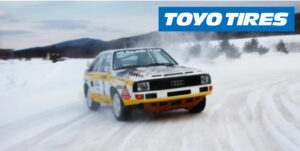 Feb 18, 2023
This is our chance to get back on the Ice!!!  Hone your skills with car control exercises including a skid pad, slalom, and 1.0 – 1.5 mile road course on the ice.