NEQ Winter Driving School 2023 @ Lime Rock Park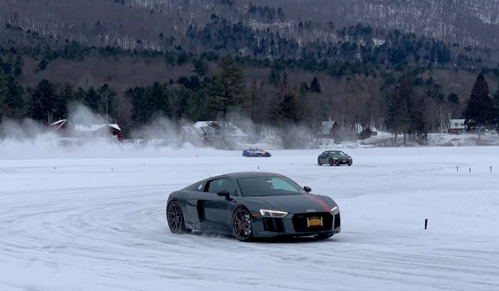 Jan 28, 2023
Audi Club Northeast (NEQ) Winter Driving School!!!
Audi Club Northeast is excited to offer our first Winter Driving School at Lime Rock Park Race Track on Saturday January 28, 2022
We will utilize the recently renovated proving grounds, which includes snow making, on an autocross style track and large skid pad. Here we can do our traditional car control exercises and low speed lapping to enhance our car control skills without the need for lake ice.
The cost for each student attendee is $270. We will allow a limited number of guests for observation and ride-a-longs. If you or your guest wants lunch, please add them to your lunch order. (Lunch is  $26  per person.)
In order to maximize the experience for all attendees, attendance is limited to 36 students plus instructors.  There will be a waitlist in case of cancelations. If early response is far greater than the maximum number of students, we MAY run a lottery will determine the roster for the day.
This one-day event begins at an 8:00 AM with registration, a brief driver's meeting and classroom session. Following the classroom, driving begins with in car instruction on snow covered surfaces.
The exercises are designed so drivers can feel the effects of vehicle dynamics as they negotiate the cones in the slalom and skid pad, learning to correct understeer and oversteer in low friction conditions. The low speed autocross course will give drivers the opportunity to put their newly learned skills to good use as they wind their way around the twists and turns on the versatile course.
NEQ's Winter School Program is not just for hot-shoe track junkies but for their teenage children and spouses and anyone who wants to improve their low friction driving abilities. The entry fee provides an opportunity to hone your winter driving skills in a safe and supportive environment with skilled instructors. The fun and camaraderie…priceless!
Participants must have a car which is in good condition and fitted with NONSTUDDED snow or all-season tires. Consider the conditions as the event nears for which tires you want to use. (Note to veterans of NEQ WDS's this is a departure of our lake based events where we allow studs and discourage all season tires) We welcome all vehicle brands as well as pickup trucks and SUVs. Participants must have a valid driver's license or learner's permit.  All participants (and those accompanying them) should be warmly dressed, with good boots, a warm hat and gloves. The driving portion of this event runs from 10:00AM to 4:00PM. An on-site lunch will be available at extra cost.
Come and join NEQ at this exciting new winter school venue! We trust this new location will be less dependent on the whims of Mother Nature. We hope conditions will be favorable and natural or man-made snow will be plentiful, but if that's not the case we will still hold the same car control event but with more grip. (Perhaps reduced by watering the surfaces even if we can't make snow.) Short of a crippling northeast blizzard this event will not be canceled or rescheduled.
If you have any questions do not hesitate to contact Dave Klock the event master.
For further information on this event and all NEQ events and requirements, please visit our website at www.NEQClub.org.  This web site has much useful information, especially under the "Events" and "Web Articles" sections. You need not be an Audi Club member to participate.
Lodging: There are many Hotels, BnB's and VRBO's in the area.
Venue: This is our scecond time using LRP for a winter school and it promises to be an exciting new site to practice winter driving. Ice is nice but as WDS veterans know, conditions are unperdictable.  At any venue we are subject to the weather but here, we will be able to drive in whatever conditions that are avaiable. Groomers will pack natural or man made snow or lacking conditions to make snow (extremely warm weater) we will still have a world class autocross course to enjoy and learn on!
Registration and lunch: Registration begins at 8:00 AM at the infield Chelet located on top of the hill near the autocross course.  Look for signs… The Chalet has bathrooms and will be used for the classroom session and lunch.
Thank you to Toyo Tires. 
Performance Driving Education Partner of Audi Club North America