NEQ 2017 Annual Meeting – Some Highlights
On Saturday, January 21, the NEQ Board of Directors, Eventmasters, and a small cadre of members at large sat down for a full day meeting at the historic Sagamore Hotel on Lake George. This is an extremely important meeting for the NEQ, as it is where newly elected Board members and officers take their seats, and 2017 plans and initiatives are solidified.
Some highlights:
John Mileham joins the Board to replace Carly Conners, who has served for the past six years. Welcome John, and thanks to Carly for your dedicated service.
2017 Officers were elected:
President: Tom Mullane
Vice President: Anthony Brown
Secretary: John Cosachov
Treasurer: Doug Billings
Event fees were set for all 2017 NEQ High Performance Driving Schools (HPDE). Events open for registration February 1.
The NEQ instructor annual fee was eliminated.
Due to the shortage of SA 2015 helmets, SA 2005 helmets will be allowed at 2017 HPDE events.
Restructured the HPDE Technical Inspection requirements for advanced (Red) students to provide some cost relief for those competent to inspect their own vehicles. One professional tech inspection at the beginning of the season is still required.
Discussed plans to provide advanced students with a better HPDE experience; more coaching, better classroom, more engagement.
Approved a discount for first-timer green students who decide to return for a second event.
Named Carly Connors "NEQ Member of the Year" for her years of service on the Board, as Treasurer, and as Watkins Glen II co -Eventmaster
Awarded Tom Mullane the Richard W Gorman "APEX" Award for his years of service on the Board, as Treasurer, as Registrar, and as Watkins Glen I co-Eventmaster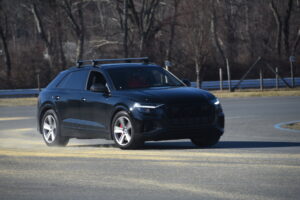 January 27, 2024.
Audi Club Northeast is excited to offer a Winter Driving School at Lime Rock Park Skid Pad & Proving Grounds