NEQ Installs New Board Members, Elects 2020 Officers
On January 18th, 2020, the NEQ members gathered in Saratoga Springs at the beautiful Saratoga Arms Hotel for our Annual Meeting. At the Annual Meeting, new Board members were installed, a new slate of officers were selected, and there was continued planning for the coming year. This year, two legendary board members left the Board, Jeffrey Bennett and Tom Mullane. These two members have been long-time NEQ supporters, and we look forward to working closely with them outside of formal board rolls. NEQ greatly appreciates all the work that Jeff and Tom did for the club, and hope they come back to the board in the future. Thank you to Carly Connors for hosting a terrific annual meeting and social dinner afterwards, and Thank You to Carly for being an outstanding President in 2019.
Our new club officers are:
President: Anthony Rivara
Vice President: John Mileham
Treasurer: Carly Connors
Secretary: Greg Miceli
Also on the 2020 Board:
Anthony Brown
Matt Wilson
Tammy Metz
Bruce McLear
Alexandra Sunseri
The NEQ welcomes new Board members Alex Sunseri and Bruce McLear.
At this year's meeting, the dates and prices for our seven 2020 driving events were established, along with appointing the 2020 Chief Instructors, setting up our 2020 marketing campaign, determining our standing committees and their chair-people, and establishing more social events for 2020.
We look forward to seeing everyone at future NEQ events in 2020.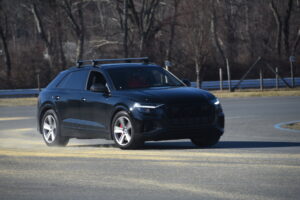 January 27, 2024.
Audi Club Northeast is excited to offer a Winter Driving School at Lime Rock Park Skid Pad & Proving Grounds