NEQ Tri-State Fall Drive – Event Summary
We had a beautiful fall day for the drive. The fall colors were spectacular. We started the drive at my home in Troy, NY and ended up at the famous Red Lion Inn in Stockbridge, Ma. We picked up the pace on the back roads and then took it easy on the main roads and through the villages and scenic spots (like the peak of Mt. Greylock).   People told me they enjoyed this different pacing throughout the day. I would slow down or stop often to keep the group together so people didn't need to rush to keep up.
We stopped for lunch in Williamstown, MA.  Everyone joined up with their driving partners or friends from other cars and had lunch at one of the many restaurants and cafes in Williamstown. We enjoyed a leisurely 1.5 hours for lunch which allowed people to walk around and enjoy the various shops in the village.
This year, we did not have a group dinner. Many folks ended up having dinner at the Red Lion Inn with their driving partner or friends. This worked out really well.
It was nice to see so many attend the event this year.
Chris Dehnert.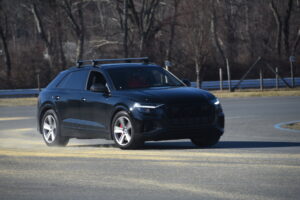 January 27, 2024.
Audi Club Northeast is excited to offer a Winter Driving School at Lime Rock Park Skid Pad & Proving Grounds